If you use it correctly, Twitter can become a powerful tool for growing your business, especially when it comes to branding, building connections with potential customers, and generating leads. However, many small companies are unsure how to build up such a following, what content to post (and when to post it), and how to consistently manage their account.
Gaining quality followers on Twitter must be done strategically—you will want followers who will stay following you for an extended period of time, who will actively engage with your content, and whose content you will also want to engage with. The goal of increasing your Twitter following is to find other users who will become so immersed in your brand online that they will choose to purchase your product or service.
Here are five tools we recommend to anyone wishing to become more proficient at Twitter:
Crowdfire:
Crowdfire is an all-encompassing social media management tool that takes much of the stress away from managing your social media accounts. Although you can use Crowdfire to find content to post to Facebook, Instagram, Pinterest, LinkedIn, YouTube, or even your WordPress blog (if you use WordPress), its real value is in its Twitter features.
Not only does Crowdfire find articles and photos for you to share to your Twitter account—based on keywords you manually input—it has a multitude of options to monitor your followers and strategically add new ones. The following options, and more, can be found in Crowdfire's "manage" section on both its desktop version and its mobile app:


Non-Followers: Accounts you follow that don't follow you back.
Fans: Accounts following you that you aren't following back.
Recent Unfollowers: Accounts that recently unfollowed you.
Recent Followers: Accounts that recently began following you.
Inactive Following: Accounts that are no longer actively posting on Twitter (can be set to 1 month, 3 months, or 6 months).
All Following: All of the accounts you are following.
Competitor's Followers: Accounts that are following your competitors' accounts (choose your competitors by manually inputting their Twitter handles).
Keyword Search: Search for accounts to follow using any keyword.

When using Crowdfire, we've found that the best results in managing our Twitter followers can be achieved by:
Regularly browsing the "fans" section to follow back any accounts that we deem important or relevant.
Regularly unfollowing "recent unfollowers."
Regularly unfollowing any followers that have been inactive on Twitter for the past 6 months.
Inputting our competitors' Twitter handles and following some of their followers.
Reducing the amount of "non-followers" we have, to only those that are really important to us, or a great source of news in our industry.
Twitter Counter:
TwitterCounter.com offers business owners a plethora of features to help them manage their Twitter profiles, and supplies them with more data analytics than is provided directly through Twitter.


Here are a few main features that Twitter Counter offers:
Engagement metrics: Discover the best times to post tweets to maximize engagement, track your most engaging tweets, and determine what type of content resonates the best with your followers.
Audience insights: Monitor growth, track accounts that are following and unfollowing you, and engage with the accounts ranked by top influence.
Competition comparison: Compare your growth with other Twitter accounts, "listen" to Twitter conversations by monitoring hashtags and keywords relevant to your account, and track your brand's reputation.
Report generation: Create downloadable, statistical reports that summarize Twitter performance and help you gauge your efforts.
Twitter Counter offers a 14-day free trial, but its most basic plan runs at $8/month (downloadable reports are not included in this plan, and other features are limited).
Twitter Counter also allows you to test out a portion of its services for free, without signing up for its free trial. Simply click the button "Sign in with Twitter" at the bottom of this page.


Buffer:
Buffer allows you to schedule posts across different social media platforms (including Facebook and Instagram), making it a great time-saver. Posts can be spread throughout the day in order to maximize viewership, and you can queue posts that Buffer will automatically post for you according to your schedule. Using the Buffer App, you can even add content to this queue while you are on-the-go.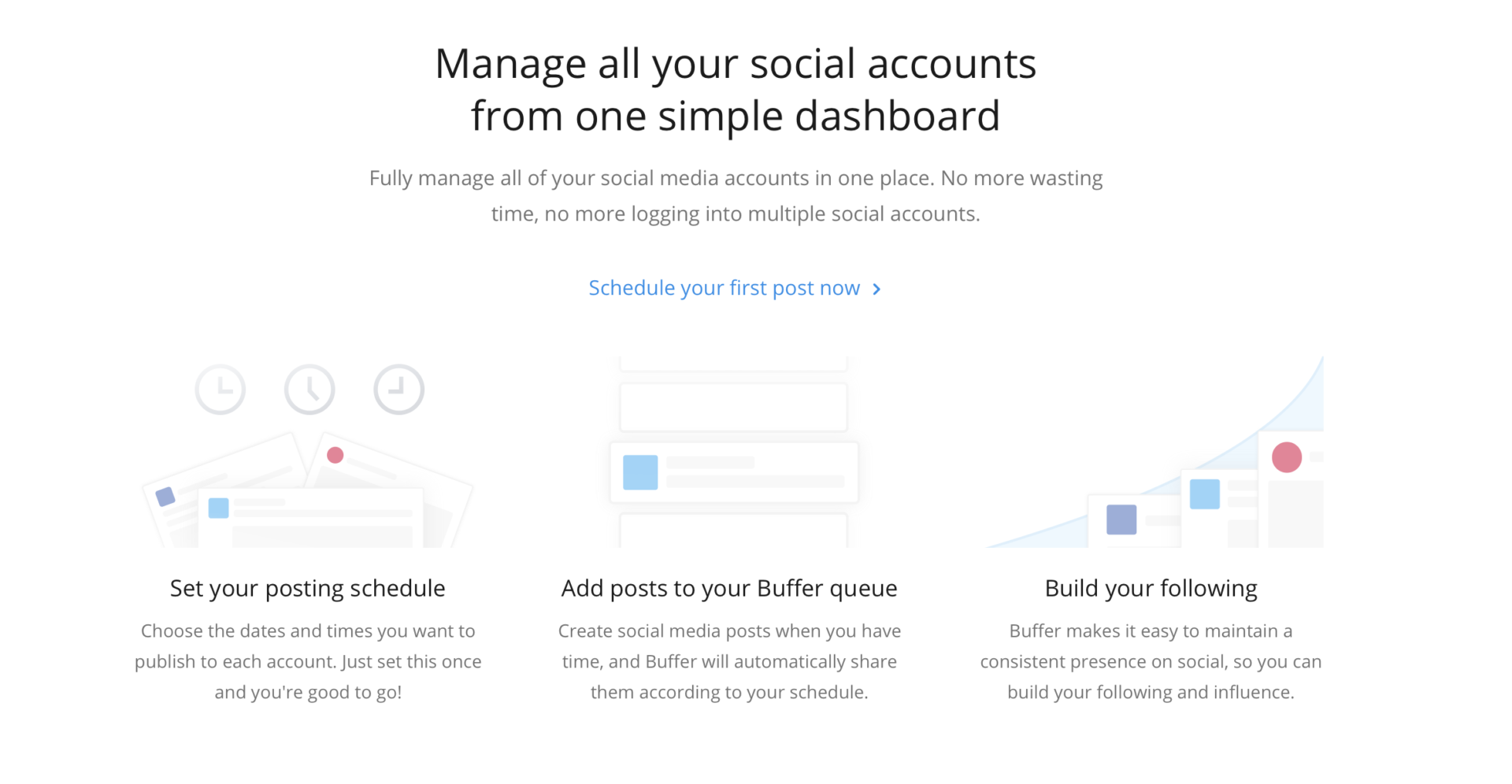 Buffer also allows you analyze the performance of your posts, including tracking key metrics such as clicks, likes, reach, comments, shares, retweets, and mentions. These insights aren't offered through Twitter's analytics report, making it a useful tool for choosing the best content for your brand.
Buffer's pricing plans run from free (some services are limited, and only three accounts can be registered at a time) to $399/month for the greatest functionality.
Socialoomph:
SocialOomph is an easy-to-use site with simple features that get the job done when it comes to Twitter account management. SocialOomph offers users a free plan and a professional plan, but for the purpose of Twitter management, the free plan is perfect for beginners.
Here's a list of some of SocialOomph's basic features for Twitter users: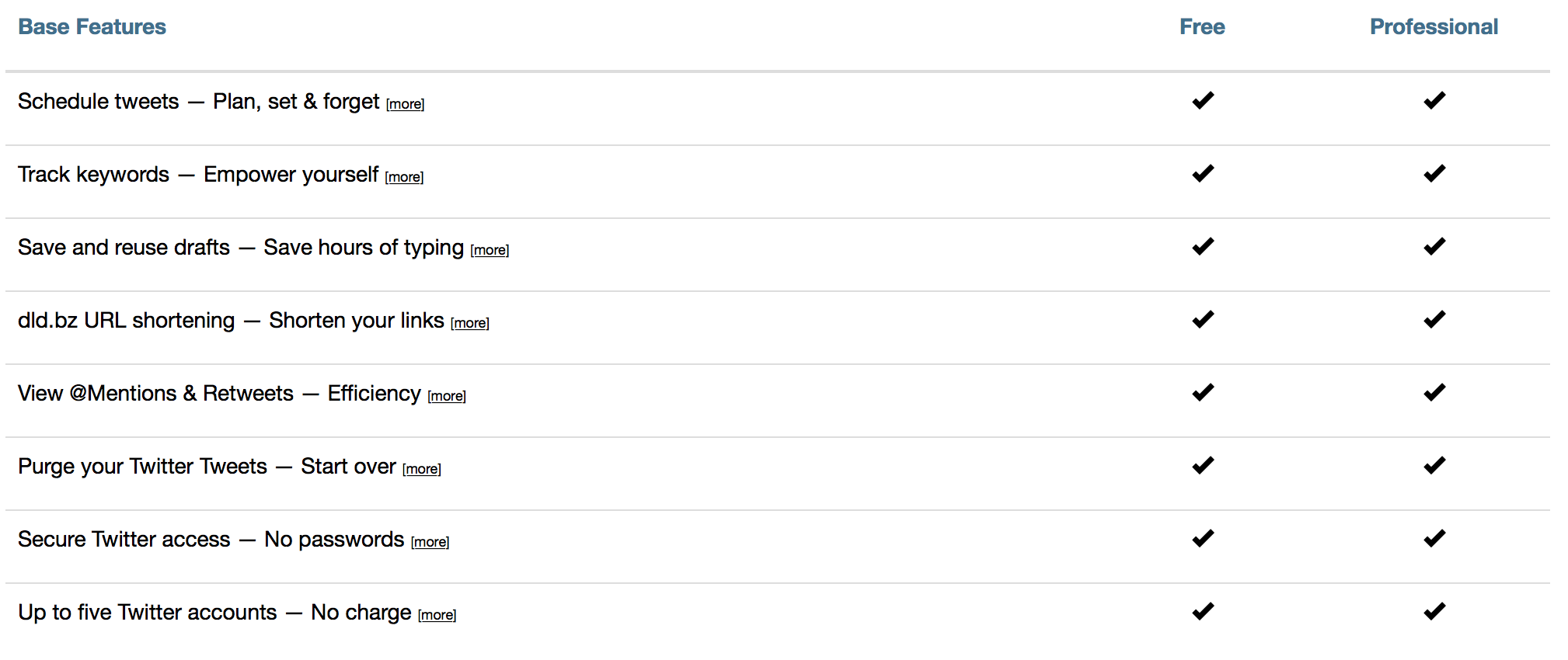 For people managing multiple social media accounts, particularly multiple Twitter accounts, SocialOomph really comes in handy. SocialOomph allows users to manage up to 5 Twitter accounts for free—typically more than other free sites.
Its professional feature allows users to register unlimited Twitter accounts, configure automatic DMs to send all of their new followers, automatically follow new followers or unfollow recent unfollowers, receive daily emails consolidating all of the DMs received that day, and more. These features in themselves make SocialOomph's $17.97/two weeks professional plan potentially worthwhile for those looking for an easier way to manage multiple Twitter accounts automatically.
Hootsuite:
Hootsuite is easily one of the most popular social media management tools on the market, but using it comes at a price. Unlike SocialOomph, its free plan offers limited services, and users can only register three accounts and create only 30 scheduled posts at a time.
However, its monthly plans (running from $19/month for professionals to $499/month for businesses) offer a variety of services:



Scheduling: Schedule in bulk by uploading a CSV file with as many tweets as you'd like. Hootsuite's calendar also allows you to see when content has been scheduled, and you can also schedule while on-the-go from its mobile app or with its Google Chrome plug-in, Hootlet.
Content curation: Find content to post by browsing keywords, hashtags, or locations, and organize it using the Hootsuite content library.
Analytics: Build reports and a personalized dashboard of the key metrics that matter to you. You may also track how quickly your team is responding to and resolving actions such as mentions or DMs.
Monitoring: Use keywords, hashtags, and locations to find out what is being said about your brand, and assign team members to respond.
Team Management: Use this tool to manage your team members, allocating tasks and assignments accordingly.
Security: Limit what team members have access to, and receive alerts whenever your account is experiencing suspicious activity.
Apps and Integrations: As a member, you will also have access to 250+ add-ons and apps to help you further improve Hootsuite's functionality.
Need More Help?
Remember, M Marketing is here to answer any questions you may have about scheduling content, managing your followers, and engaging with your audience on Twitter. Please feel free to check out our website for more information on our social media management services.