</p>
One major thing that can either make or break your company is your reviews, whether they be from word-of-mouth, online review sites, or another source. According to Vendasta, more than 88% of online shoppers incorporate reviews into their purchase decision. Even if your company doesn't offer online products or services, it is still critical to have a robust online presence, which can be strengthened with positive reviews.
Here are some online review sites to look into and share with your customers:
Yelp
Yelp is easily one of today's top review sites. Not only can you search for just about any service or product, the information uploaded to Yelp is also shared to many other sites. For example, Apple Maps, Mapquest, Yahoo, and Bing all use the reviews posted on Yelp for their sites. Therefore, having positive reviews on Yelp is important, since they will likely be seen by anyone searching for your brand.
Yelp is increasingly being built around the idea of community. On its homepage, viewers will find a "recent activity†section, which shows all recent reviews (including pictures) from their area, with the option to react to the review (similarly to a Facebook post). For anyone scrolling through this section, recent reviews of your company can either leave a very positive, or very negative, first impression.
Angie's List
Does your business do landscaping, roofing, or painting? Angie's List is the perfect place to find a home service like this, and therefore the perfect place to list your business. Because Angie's List is specific to these types of services only, your business has a high chance of being seen by those looking to renovate their home.
Here are the service categories shown on Angie's List: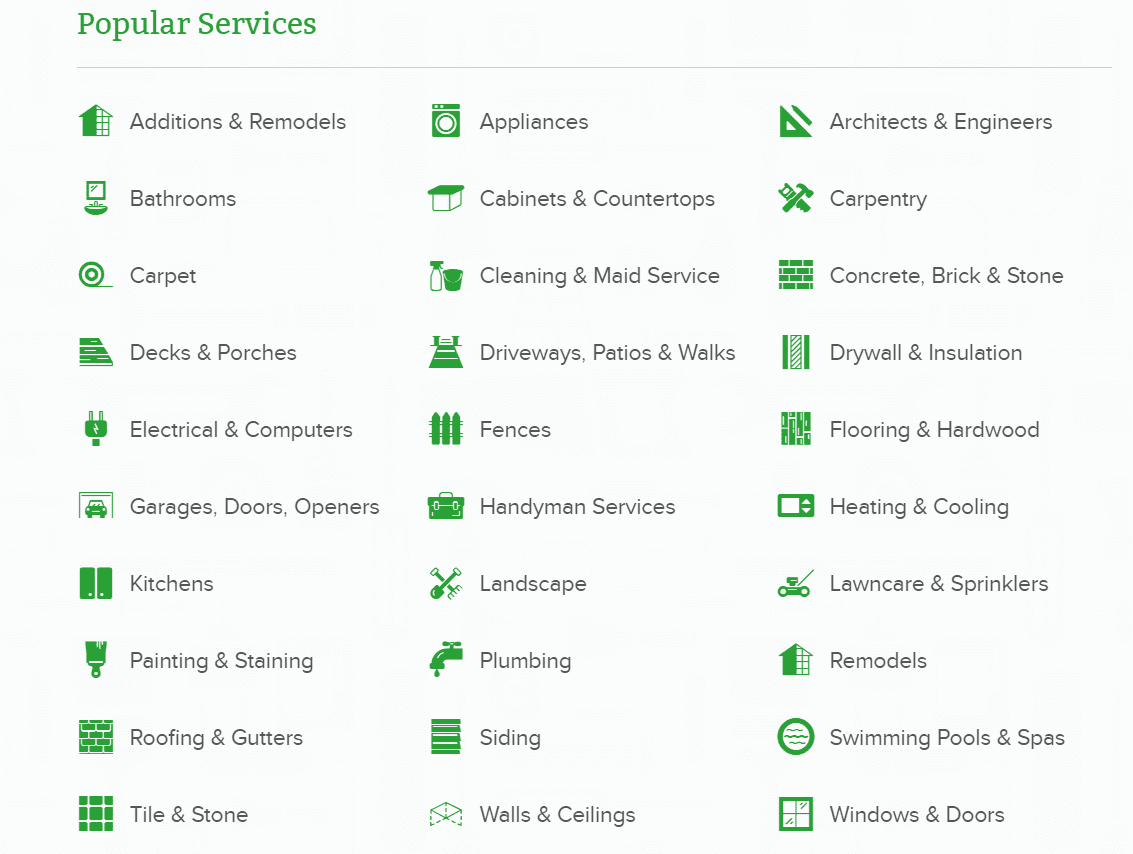 Google & Google Maps
Because Google is constantly evolving, it has proven challenging to provide a stable link for companies to have customers review them. Use this Review Link Generator to create a direct review link to place on your website or send to your customers (otherwise they will have to search for your business on Google before they can leave a review). Written reviews will show up when searching for your business on Google, and when typing in your company's address on Google Maps.
Better Business Bureau
The Better Business Bureau (BBB) is one of the most trusted sites when it comes to finding accurate business information. On the site, customers can submit both reviews and complaints. Using this information and other information gathered about the company externally, the BBB then rates the business using a point system based on these 13 factors: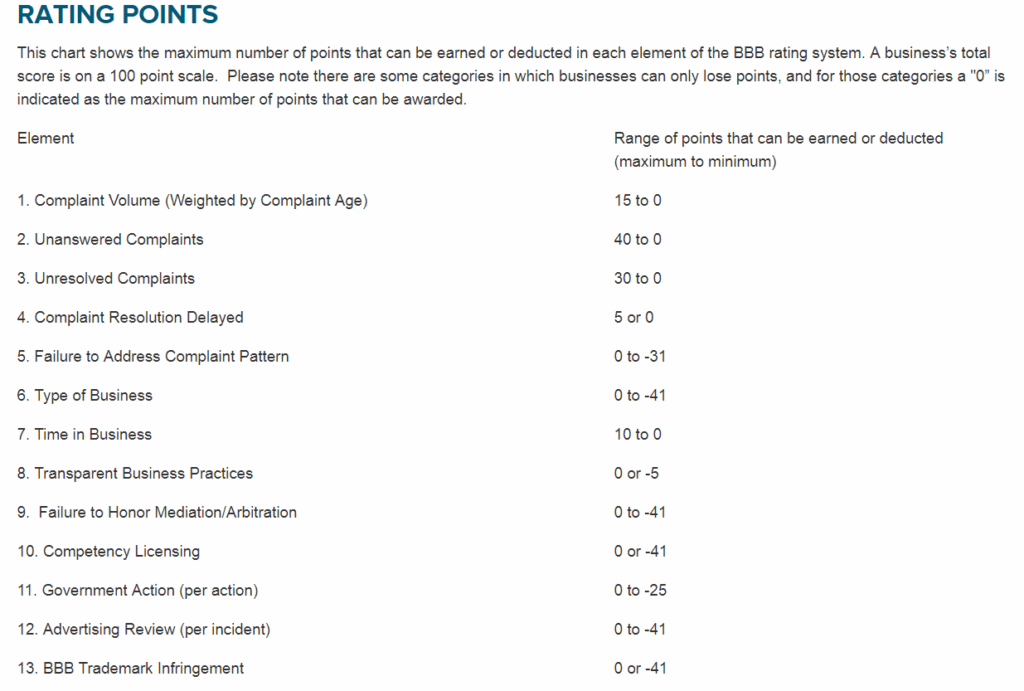 Customers can use this rating as an overall indicator of the business's performance. Therefore, it's important to not only monitor and respond to the reviews posted on this business, but to collaborate with the BBB to resolve complaints as well.
Facebook
According to Statista, Facebook had 2.2 billion monthly active users in the fourth quarter of 2017. With such a strong online presence, not only is it important to have a Facebook profile, it is important that your profile is being reviewed positively. Anyone who decides to check out your profile page may be deterred from making any further action (clicking the link to visit your website, calling you, searching for your address, etc.) if they see a mass of negative reviews on your profile page. If there are negative reviews, make sure that you are responding to them directly and appropriately (check out our guide for responding to online reviews here).
Facebook now also offers users a recommendations feature that allows them to create a post asking their Facebook friends to recommend services. Increase your chance of being recommended with a strong Facebook profile, positive reviews, and excellent customer service.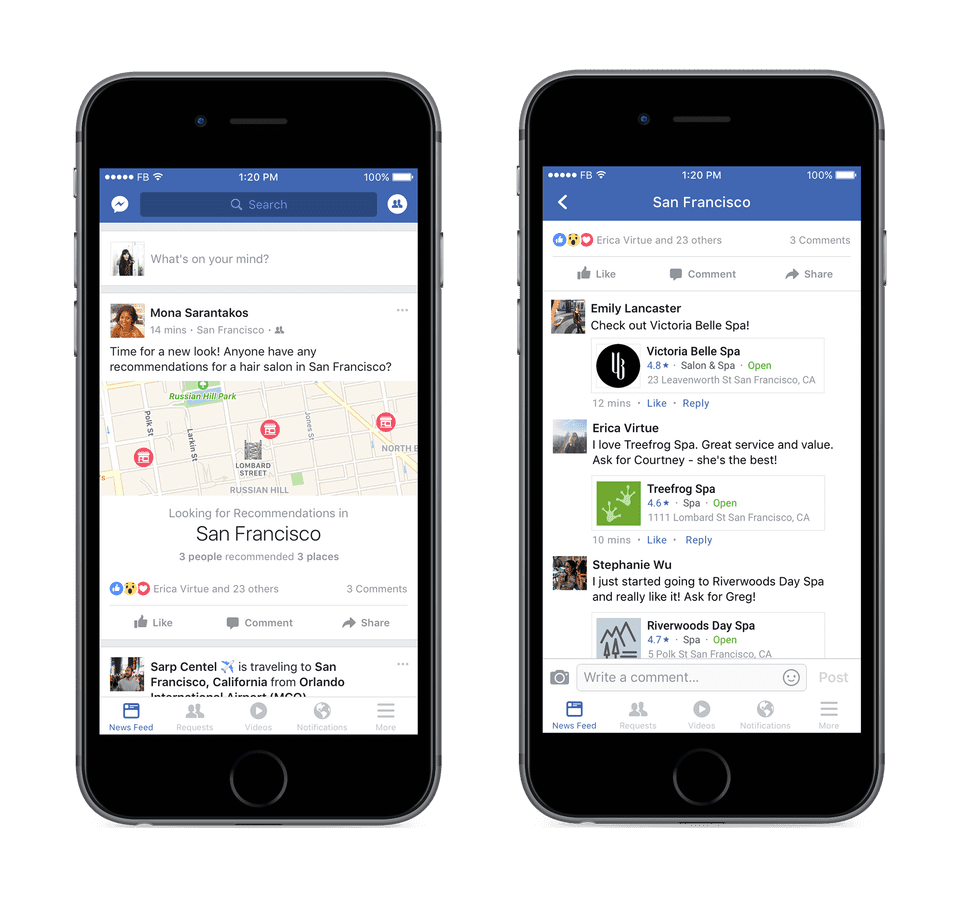 City Search
City Search is an all-around great place to list your business, since every category of service or product can be found on this site. Like Yelp, City Search allows business owners (not just anyone) to create a page for their business. By doing so, owners can ensure that all of their business information is accurate. The site also allows owners to link to their company's website and social media sites, and its mobile apps make searching for a business on-the-go even easier.
Foursquare
Foursquare focuses primarily on food, entertainment, shopping and nightlife—the perfect site for tourists. However, even if your company doesn't fall inside one of these categories, it doesn't mean that it can't still be listed!
Foursquare's ranking system is a little bit different than other review sites. Instead of a five-star ranking scale, this site uses a 1-10 scale, much like IMDB's scale for ranking movies. Top-ranking businesses can be found on the site's "Top Picks†category, which lists the businesses with the highest scores in your area, across all categories. If you have one goal for using Foursquare, it definitely should be to make it on this list!
Yellow Pages
According to its website, nearly 60 million people visit Yellow Pages each year. This site is one of the more popular places to go to find accurate information on a business listing—not just for reviews. Other sites will import contact information from Yellow Pages to display on their own site. Therefore, it's imperative that your business is listed correctly on this site.
Once you search for a service, Yellow Pages will direct you to a page that lists top-rated businesses for that service. Next, you will click on a button that says "see more.†You will then be directed to another page that lists all of the businesses for that service in your area. You will find that on this second page the top-rated businesses you just saw are not necessarily listed at the top. This means that it is important to have high ratings in order to be listed on the first page—your business might not be found easily otherwise.
Apart from business listings, Yellow Pages also posts coupons and articles that will help potential customers decide where to shop. Additionally, Yellow Pages can now be downloaded as an app from the iPhone App Store or the Google Play Store.
Yellowbook
Do you own a restaurant? Yellowbook may be a great place for you to list your business. From the Yellowbook homepage, viewers can see a section that lists five of the top-rated restaurants in their area. As long as your restaurant has five stars, you can make it on this list (even with only one five-star review). How easy is that! Local sponsors are also listed on the Yellowbook homepage, something to consider if you have a little extra money in your marketing budget.
Like most other review sites, Yellowbook allows you to browse by popular categories (such as home improvement, contractors, or attorneys), or search for a business directly.



Superpages
Superpages offers a "city guides†feature that makes it easy to plan a trip to, let's say, Albuquerque, NM. After you select the city you are interested in visiting, Superpages comes up with the following lists: top things to do, top restaurants, top attractions, arts & entertainment, concerts, kids attractions, recreational activities, parks/landmarks, and museums. Having a strong profile with a high rating can help you become included on one (or more) of these lists.
On it's homepage, Superpages also lists featured businesses in your area. These businesses are gauranteed to have the highest amount of visibility and, therefore, the most amount of traffic. Having your business listed on the Superpages homepage may be something to consider in your marketing strategy (but keep in mind you'll want to have a lot of positive reviews, first).
Merchant Circle
Not only can you list your business on Merchant Circle, you can use it to advertise too! The site allows you to advertise across Google and other search engines, and create leads with emails, landing pages, and form submissions. Its "digital footprint†feature acts as a reputation management guide to show you how your customers are responding to your brand across different online channels and social networks.
Also use Merchant Circle to find and compare the top merchants in your area, which is made easy through the site's "top categories†list.
Dex Knows
Dex Knows allows users to search for local businesses in their own city, or for the most popular businesses in cities across the United States. This feature makes Dex Knows a great tool for trip planning, especially for newcomers to your area. Therefore, make your business stand out among travelers with strong reviews and updated contact information on the Dex Knows site.
The site also offers a free scanning feature that allows business owners to scan over 50 other review sites for accuracy. The scan shows any discrepancies in contact information, where reviews could be added, and where business listings are missing entirely. This will help give you a better understanding of where you need to improve your online review presence.
Need More Help?
This blog post from Vendasta is an excellent resource for anything you may need to know about online reviews. Also, please visit our post on the 10 Do's and Don'ts When Responding to Online Reviews for tips on reputation management.
Add a header to begin generating the table of contents